November 2017
I'm a 78 year old woman with fibromyalgia. I first started to realize that my health was not the greatest. Also felt I was losing muscle tissue and my balance was poor. Something had to be done!
Kim has been helping some of my neighbors at my condo, so I asked her to help me.  It's been a month of exercise and learning how to eat properly. It's been great! I feel so much better already inside and out. I lost 61/2 lbs and 51/2 inches to date! WOW!
Diane Paterakis
Boca Raton, Fl
September 2017
Thank you Kim for keeping us in shape! Looking and feeling better has been the best gift of our lifetimes, thanks to you!! Our family so much appreciates your hard work and dedication, and are truly blessed to have you as our fitness guru! You are a great inspiration and we want to say " Your the Best"
We Love You,
Karin & Paul
Boca Raton Fl
JUNE 2017
I'm writing this to all the complainers, non believers, couch potatoes, and junk food eaters. Get off your butt and Just work with this lady! Shes the best motivator, educator and coach! YOUR LIFE WILL CHANGE FOR THE BETTER LIKE MAGIC, MINE DID ! Don't know why I waited so long!
Christine M
Boca Raton,Fl
MAY 2017
Kim,
Your Terrific! Ten times over!! Went from fat and flab, to fit, trim, strong and happy! Love my new body, enjoying better health, and all the new clothes I had to buy! It's great!!!
Cynthia,
Deerfield Beach Fl
JULY 2016
To Kim, We are truly blessed to have met you. When first meeting we had told you we had no experience with a professional trainer, nor anyone to discuses how to shop for food. We found it our of our comport zone to work with you,  but so glad we did! It was so worth every penny, and we look forward to seeing you every season when were in Florida. My husband and I were able to travel, hike, walk, enjoy ourselves and not complain about all our aces and pains. We both look better, and feel super! Thank you so much, your the best!
Marlene & Peter
New York& Boca Raton Fl
February 2015
I'm so happy to say I did it! Lost 50 lbs I've carried around for 20 years. I wish I met Kim years ago, now I have new found energy ,health and a promising future with my new figure I would highly recommend Kim to anyone who is tired of being sick and tired! She's the best!
Ellen
Boca Raton Fl
May 2014
Kim, my husband and I can't thank you enough for introducing us to a new way of living. We used to sit on the couch , and now we go out for walks or use our home gym you helped us set up. Our unhealthy former eating habits had led us to ill health and obesity. We are both so proud of the way we now look and feel , and now get a good bill of health at our Dr. visits. We always look forward to meeting with you and learning new idea's to stay fit and trim.
Thank you so much,
Laura and Bill
Boca Raton,Fl
January, 2014
Thank you so much Kim for helping my whole family on the road to better health. We now exercise daily, and are making better food choices. My husbands blood pressure has gone down as well as loosing 45 lbs which he's kept off with your program. I love the positive comments I continue to get how fit I look from all my colleagues. We would be proud to refer you to all our friends and family.
Diane & Family,
Deerfield Beach, Fl
——————————————
October, 2013
Can only say don't know why I waited so long to get my body in shape. Thanks to Kim I look and feel 10 years younger. Not only do I look forward to my exercise session, its great to keep learning new things I can keep doing to improve my health every time I meet with Kim. This has been a great experience and I plan to continue my sessions as its now a part of new life style. I would recommend Kim to anyone who truly wants to look and feel better and needs a great coach!
Thanks Kim,
Jessie
Boca Raton,Fl
—————————————-
July, 2013
Kim is among the most knowledgeable trainers I have ever worked with. She is also extremely reliable and makes sure you get your money's worth. Kim is really "IN IT TO WIN IT" for you.
Dale Bornstein CEO
Boca Raton , Fl
—————————————-
April, 2013
Thank you Kim for all your hard work and dedication. Not only do my husband and I feel and look better than we have in years, our aches and pains have diminished, our attitudes have improved, the quality of our lives are more meaningful.
Knowing we both resisted changing our habits  for some time, we want you to know your time, tenacity, and sincere concern have been well worth your efforts and we can't thank you enough.We look forward to meeting with you every week, and don't know what we would do without you!
We also love the exercise machine we purchased from you. It really gives a boost every morning, and our usual stiffness is diminished. We have a more general sense of well being! Were so grateful that you introduced us!
We would highly recommend Kim"s services to anyone who wants to improve the quality of their life!
Beth and Jim
Boca Raton, Fl
—————————————-
JANUARY 3rd, 2012
I am a 62 year old guy who hasn't done any exercise other than walking for the past 20+ years. I have been working with Kim, personal trainer extraordinaire for a short period of time.  I am already doing things I never thought possible. I have the energy and vitality that I used to have 20 years ago. People in my building where I live ask if I have lost weight, actually I have only lost a couple of pounds but my waist is a lot tighter and I look and feel great.
Every time I have started an exercise program at a gym or on my own I ended up pulling some muscle which sidelined me for several weeks and I ended up not continuing. This time I knew I needed a personal trainer to make sure I stayed motivated and didn't injure myself.
Your body is unique, the exercises you can or can't do are different than anyone else, so you need an exercise program tailored specifically for you. Kim tailored a program just for me and its really working.
Kim has been doing this for 20 years, she has the skills and experience to work with anyone from 20 to 80 years old. She works with people that have neural muscular diseases, folks that are mildly to severely overweight, to the buff 28 year old. There is a 70 year old guy in my building who has lost 30 lbs working with Kim and kept it off!!
Do yourself a favor this year and make a commitment to get healthy, it will be the best decision you have every made. Contact Kim today.
Michael McDade
Boca Raton , Fl
—————————————
Testimony 3-28-12
If you want a good trainer, its one thing, if you want the best trainer "Its Kim!"
As I was only visiting my gym once a year, Kim not only motivated me to exercise
daily, but actually taught me how the body works, the benefits of specific exercises
for me,and how to prevent  common injuries. I really enjoy my new found energy and
strength. I'm so excited to continue the specific program she designed for me, I feel
better every day! The healthy eating tips are helpful to! 
Boca Raton, FL
————————————–
Nancy N, Ragno
Educational Writer
12/9/2011
To whom it may concern:
I have known Kim Peskin for over fifteen years and have always found her to be a most conscientious, dedicated, and informed professional, one who is truly outstanding in her chosen field – physical fitness training.
I personally have benefited tremendously from Kim's instruction in basic physical training, aerobics, and weight training, and I would recommend her unconditionally to anyone seeking a physical fitness professional .
As a logical adjunct to promoting healthy exercising for me, Kim has encouraged "healthy eating."I am also aware of all the courses she has taken and continues to take to stay on top of her profession.
I am very happy to recommend Kim to anyone seeking a topnotch certified, insured personal trainer, one who really cares about her clients' welfare. Kim is the best!
Sincerely yours,
Nancy Jupiter FL
Author of "Word Savvy" at Amazon.com and Barnes and Noble
————————————————–
KIMS CLIENT SPEAKS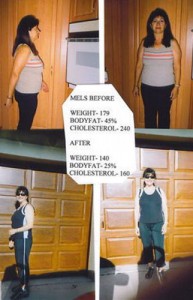 I WAS GROSSLY OVERWEIGHT.  FEELING INSECURE AND UNCOMFORTABLE, MY LIFESTYLE WAS LIMITED BECAUSE OF HOW I FELT ABOUT MYSELF. MY CHOLESTEROL WAS IN A DANGEROUS ZONE, AND MY DR. WANTED TO PUT ME ON MEDICATION.
AFTER WORKING WITH KIM FOR 6 MONTHS, I FEEL WONDERFUL. I HAVE LOST 40 LBS, MY CHOLESTEROL LEVELS ARE IN THE NORMAL RANGE, AND I NO LONGER NEED MEDICATION. MY STOMACH PAINS ARE NO LONGER PRESENT.
LEARNING FROM KIM HOW TO EAT WELL, HAS IMPROVED THE QUALITY OF MY LIFE AND HEALTH.
FROM KIMS ASSISTANCE IN THE SUPERMARKET, I KNOW HAVE LEARNED TO AVOID UNHEALTHY FOODS FOR ME AND MY FAMILY  I AM STILL LOOSING WEIGHT AND HAVE MORE ENERGY. ALL MY FRIENDS HAVE NOTICED HOW GREAT I LOOK AND FEEL.
I AM SO EXCITED TO CONTINUE MY PROGRESS, AND GRATEFUL TO KIM FOR ALL HER SUPPORT AND DEDICATION.
I WOULD RECOMMEND KIM'S SERVICES TO ANYONE INTERESTED IN LOOKING AND FEELING BETTER, WITH AN INTEREST TO IMPROVE THE QUALITY OF THEIR LIFE!
 CARMELLA
Boca Raton , Fl
————————————-
I tried many different training programs but was never successful.
My experience with Kim was great! After two months, I lost 25lbs.
She not only taught be about choosing healthy meals and snacks, but
is a great motivator, top of the line trainer! With Kim's experience,
she has the ability to keep it fun, educational, and effective. I am very satisfied with my
results, and have continued my new healthy habits.
I would recommend Kim to anyone who is serious about getting and staying in shape!
Sincerely,
Melissa
Boca Raton, FL
—————————————-
Testimony about Kim
I first met Kim Peskin when she came to conduct her weekly pool exercise class at our Condo association.
At the time I decided to hire her to work with my wife, who has Parkinson's. My wife had trouble walking but in addition she had lost the use of her right hand and her right arm was becoming frozen for lack of use. She had been receiving both professional physical and occupational therapy but with little progress. Kim started working with her and within a few weeks, my wife was able to extend her right arm and even catch a ball in the air with it. With Kim's assistance, my wife started walking around the house and even danced at my birthday party. Although her condition continues to deteriorate from the Parkinson's, Kim continues to work with her 3 times a week and gets her to do a number of exercises as well as use a vibration machine to give her legs some exercises and maintain better circulation. She also engages her in some games to exercise her mind and memory.
I was so pleased with her work with my wife that I decided to hire her to work with me as well. I had gained a lot of weight in the last couple of years and was having problems with my flexibility and even with my balance. Kim convinced me that I should not only engage in an exercise program but also to make a serious revision of my diet. I agreed to do so and followed her suggestions. In the period of three months I was able to lose 30 pounds that I have kept off for the past year.
Our exercise program included work in the gym, on the beach, and in the pool, as well as long walks in the neighborhood. More recently, our Association purchased Kim's professional Whole Body Vibration Machine for our association gym. A number of residents of the building also have been using it and I have heard some very positive comments from those using it. Kim also came to our association 4 weeks in a row to teach the owners how to use the machine and instruct on safety issues.
I have two daughters that came to visit us for the holidays and they joined me in the workout sessions with Kim, including one time in the pool, and they tried Kim's Whole Body Vibration Machine and were quite pleased with it.
As a result, I highly recommend using the services of Kim.
Lost 30lbs thanks to Kim's support and guidance.
Still losing and feeling great!
Joaquin , Boca Raton, FL
————————————————————–
Age:60
Overweight
Diet:Poor
Exercise:None
Result:
Weight Gain
High Blood Sugar
High Cholesterol
High Blood Pressure
AFTER TRAINING WITH KIM
Lost 65 lbs:Maintained Weight Loss over 6 years
Diet:Portion Control
Exercise:Currently train with Kim 3x per week
Cardio 6 Days 45 minutes
Melting 6 days(SEE SPECIALTY PROGRAMS)
Results:
Lost excess weight and maintained weight loss
Balanced Blood Sugar
Balanced Cholesterol
Stable Blood Pressure
Increased Energy
"I think Kim's terrific!"
Boca Raton, FL
————————————-
————————————–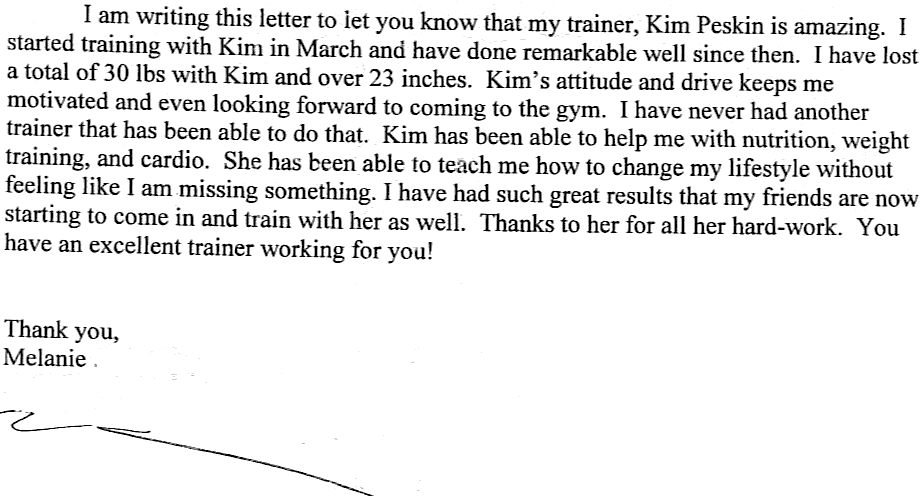 —————————————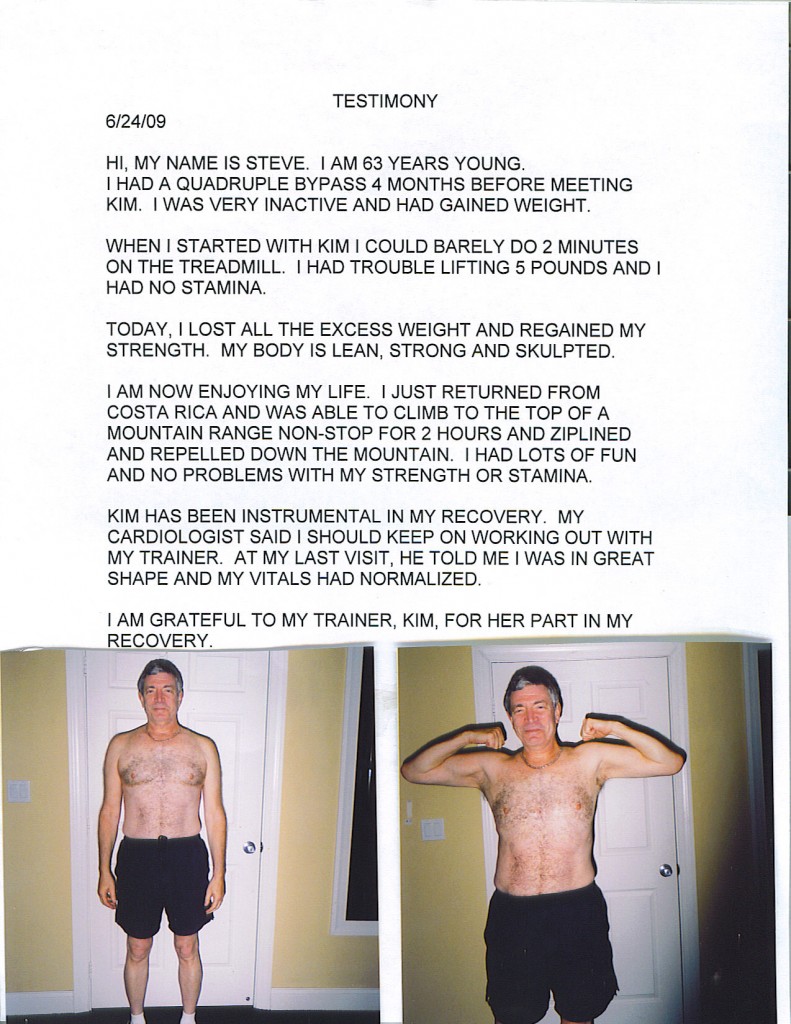 ———————————————————————–
Whole Body Vibration Testimony
Hi Kim! As I explained yesterday, I was diagnosed with colon cancer in 2005. I had major surgery in June 2005 followed by chemotherapy and a second major surgery in March 2006.
I had a serious problem with neuropathy in my hands and feet. From 2006 until about a month ago, my neuropathy improved very slightly and slowly. Then I started using the whole body vibration machine you introduced. After about a week, I noticed something strange with my hands. Then I realized I had recovered lots of feeling in my hands and feet. So needless to say, I'm thrilled. When I see my oncologist in July, I plan on giving him info on the machine.
I should also mention I had a hip replaced in 2009- before I started using the machine, I checked with my orthopedic surgeon who cleared me to proceed. I've had no problem.
Thanks,
Raymond
Boca Raton FL
2/24/12
————————————–
Whole Body Vibration Testimony
I've Been using Kim's Whole Body Vibration machine two times a week for the last few months. Its a vital part of my wellness program. After my very first time, I felt invigorated! My posture was dramatically improved. Having MS, I  can now walk unaided 70 feet. Kim's whole body vibration machine is an integral part of my wellness program. See me walk at www.youtube.com search Jarod walking.