Demonstrations going on now in Boca Raton FL area.
Call today to schedule your appointment.
  FOR MORE INFORMATION 561 883-7915
_____________________________________________________________
WBV AS SEEN ON "THE DOCTORS"
The above video is for visual aid only ,not machine this dealer represents.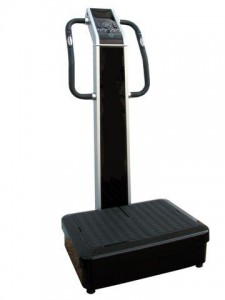 This dealer's machine
INTRODUCTION
Whole Body Vibration (WBV) is sweeping across the USA from Europe and is now commonly used by doctors and physicians to treat patients. Vibration machines are now becoming the world's top trainer's key training tool. Approved and used by universities, medical centers, anti-aging clinics, journals of sports medicine, journals of physiology, physical medicine, rehabilitation and recovery experts, professional and amateur sports teams.
Product Specifications:  
–         Speed 120  settings (60+60)
–         Amplitude 1m.m.-10m.m.
–         Motor silent 300 watt (Linear) + 500 watt Harmonic
–         Display: Multi- section blue L.E.D display with time,speed,program
–         Heart rate user program, internal program
–         Programs, manual mode & 3 pre programmed & 6 per USB programs
–         Frame- rugged welded steel
–         Center main post: rolled steel
–         Base :Steel
–         Post: Steel
–         Motion: Premium program oscillating (harmonic) + Lateral (linear)
–         Machine weight: 125 lbs
–         Shipping Weight 140 lbs
–         Shipping boxes 2
–         Maximum user weight 350 lbs
–         Power requirement 120 Volts A.C. 60 Hz
–         Platform height: 9" above ground
–         Platform size: 27" wide, by 20" deep
–         Leveling system: adjustable locking foot support system
–         Transport System: 2 Polyethylene wheels on back of main post
–         Accessories Included: workout chart/poster, training DVD x2
–         Owners manual, 2 upper body soft straps, 2 hard straps
–         5 Year Warranty- 5 years motors, 2 years electronics
–          See Disclaimer, and return policy below
ORIGINATED FROM
Whole Body Vibration technology originated in Europe and has been an evolving technology for the past 50 years. Sweden, Italy, Germany, and Russia have contributed immensely to the progression of WBV research and development for the purposes of fitness and rehabilitation. Many scientific research studies had been performed which validate the benefits of WBV with respect to bone density and fighting osteoporosis, increased blood circulation. More efficient muscle toning, and much more.
HOW WBV WORKS
Whole Body Vibration works by stimulating the natural reflex reactions in muscles, using the muscles to continually contract and relax. Different postures and positions can be used, which allows muscle stimulation in different parts of the body. A person stands on a plate and senses a vibration coming from the platform. These vibrations are too fast for a person to voluntarily react to, however the body's reflex response allows the muscles to react 20 or 30 times per second or even faster. All of this is achieved with very low impact on bones and joints. Spending just 10 minutes a day on our WBV machine can be as effective as 1 hour of traditional exercise, as well as complementing all traditional fitness-training exercises.
SPECIFIC PROGRAMS
Our WBV unit has over 90 specific programs. By selecting a specific type of workout, research has shown the programs can help you with the following:
• Improve circulation, oxygen and energy levels
• Improve mood, regenerates and repairs hormone imbalances
• Improve mobility, flexibility and balance
• Helps pain control, osteoporosis and fibromyalgia
• Flush toxins, improves lymphatic drainage
• Increases metabolism, burns unwanted fat, weight loss
• Increase bone density
• Accelerate muscle toning, builds muscle
• Helps diabetes, multiple sclerosis, Parkinson's disease
• Decrease blood pressure and cortisol levels (the stress hormone)
• Stimulates serotonin (the happy hormone)
WHAT MAKE'S THIS WBV UNIT DIFFERENT
Our WBV unit IS NOT AVAILABLE ON LINE. This unit is only available from this dealer. The staff of  technicians will also assist you with choosing the proper programs for your fitness progress as well as assisting you in setting up your home machine.  Kickwithkim LLC offers an ongoing concierge service that not only supports you and your family's WBV use, but will also assist in servicing your machine with its 5-year warranty.
This unit is the first machine of its kind to use two different types of vibrations. The average whole body vibration machine only uses harmonic vibrations. Ours uses harmonic motion combined with linear motion to offer a complete workout with better results. It has 120 speeds, two motors, steel base, steel post, steel skirt, back light controls, handle mounted buttons, and easy assembly. This WBV machine is not manufactured by kickwithkim LLC,but is representing WBV professional manufacturer.
This type of movement can support more weight, has much less vertical impact in the body, reduce stress on the organs and helps keep the spine more flexible and lose. When using this WBV equipment, the engaged muscles contract alternately as in normal walking motion, so the same muscle groups on both sides of the body are not contracted at the same time. Other forms of WBV duplicate the jump reflex in the body. The muscles on both sides of the body contract simultaneously resulting in very high impact. Repetition of this sort of impact makes certain positions on this type of WBV exerciser unsuitable. This machine also comes with attachable bands, a handbook, attachable straps, 2 workouts DVD's and much more!
HISTORY OF WBV TECHNOLOGY
Vibration therapy was discovered in 1857 by a Swedish doctor-Gustav Zander who built several different exercise machines, some of which were a type of vibration exercise. After exhibiting at two World Fairs, he started the Zander Institutes, (an early form of today's health clubs) which proved to be very popular throughout the world.
In 1895, the developer of Cornflakes, Dr. John Harvey Kellogg, invented a full body vibration machine. By 1960 the beginning of today's standard of vibration exercise arose. In East Germany a technique called rhythmic neuromuscular stimulation was being used.
Russian scientists began studies in order to help rehabilitate their cosmonauts after returning from space-repairing muscles from atrophy and bone density due to the weightlessness of space. These Russian scientists and researchers found that not only did the technology stop the loss of bone density, but amazingly it strengthened and increased muscle tissue.
In 1995, a Russian Cosmonaut (and medial doctor) named Valery Polakov set a world record for being in space for 438 days thanks to vibration technology. Because o the Russian's advantage of vibration technology, their astronauts were able to stay in space for 420+ days while American astronauts had to return after 120 days.
The Russians also used this technology to prevent and rehabilitate injuries in their Olympic athletes and brought home 43 gold medals in 1960 with the support of the technology. After the fall of communism, the technology made its way east to west and continued to be studied and enhanced. Today after decades of research, whole body vibration is used by professional sports teams, athletes, spa's, health clubs, medical centers, and reviewed by Nasa.
DISCLAIMER
This WBV unit nor this dealer, Kickwithkim is not intended to treat, diagnose, or cure any disease. Research and studies for these conditions are listed on pub-med and the National Center for Biotechnology information website, which is available to the public. Studies can also be found from the following sites: Scientific American, Dr Ian Gainor, Department of Kinesiology and Department of Radiology, McMaster University, Hamilton ON, L8S4K1,medsci.org, NYU School Of Medicine New York, IBMS-JSBMR 2003 Abstracts P506,International Journal on Obesity, Rheum wire forum, Journal of bone and mineral research Volume 19 Number 3 2004. And many more references are available to the public.
All persons who use Whole Body Vibration machines from us do so at their own risk. Persons who use this machine are aware of their own physical conditions. You are releasing this dealer, kickwithkim LLC  from all liability for accident, injury, or illness. By using this machine, you assume all risks connected therewith and consent to voluntarily participate. All persons should follow manufacturer guidelines.
If interested in ordering a machine for your home or office, call 561 883-7915 to order today! Please allow 3 days for processing local orders,  additional time for shipments. Dealer had the right to refuse credit card payment for discounted orders, and may request certified check or money order.
Disclaimer: Anyone with pre-existing injuries or medical conditions should consult their physician prior to using vibration machine. All persons should check with their physician prior to starting any new exercise equipment, or program.
Return Policy: 7 Day return policy with sales receipt & original packaging in undamaged condition. All returns must have all parts, control manuals, DVD's, power cord, nuts, bolts & all parts and pieces as delivered in original order.
Delivery and or shipping charges apply for any returned machine. Refund will be returned in the same manner it was paid. Customer will be refunded machine price, minus shipping, or delivery fee,a re- stock fee, and  charged for any missing items. This dealer,kickwithkim LLC has the right to refuse any return that does not fit the above criteria. This dealer,kickwithkim LLC is not responsible to buy back any used machine, nor re sell used for the customer.  If the customer chooses to re sell their own machine, it is their responsibility. This dealer kickwithkim LLC ,nor the manufacturer will transfer your warranty to new owner, as its not transferable.
Warranty- Please refer to your product handbook for manufacturers  warranty policy's. This dealer is not responsible for your repairs, or damages caused by in-proper use, or manufacturer defect. Customer must contact the manufacturer directly.
+++++++++++++++++++++++++++++++++++++++++++++++++++++++
                         Local demonstrations are available to the public, in addition to
                WHOLE BODY VIBRATION THERAPY & TRAINING 
                       PLEASE CALL  FOR A FREE DEMONSTRATION TODAY!       
 OR FOR MORE INFORMATION 561 883-7915